Smurfette
Smurftastic Stories
Recommended for Ages 3+
Total Runtime: 45 minutes
Free Shipping on all orders $40+

In Stock –

Limited Holiday Inventory
Don't have a Storypod?
You'll need a Storypod to listen to the interactive audio on Smurfette.
Get the Storypod
Smurfette - from the creators of The Smurfs - wonders about where she fits in Smurf Village. The other Smurfs, including Brainy Smurf and Hefty Smurf, have names that tell them what they are good at, except for Smurfette. With the support of her friends, she will go on a Smurftastic adventure to find out there's much more to being herself than she thought! Join Smurfette as she learns about regulating emotions, using teamwork to overcome adversity, and self-discovery.
Smurfette Teaches Kids About:

Social-Emotional Learning (sadness and fear focus)
Everyone has valuable and special skills
Finding oneself
The world of Smurfs
Tracklist:
Smurfette's Dilemma
Sadness Emotional Regulation Activity
Friendship and Identity
Smurfboarding Movement Activity
Jumping Bunnies Movement Activity
Bridge Building Activity
Fear Emotional Regulation Activity
Smurfy Grove and New Friends
Smurfette Learns to Flowercopter Movement Activity
Returning to Smurf Village

© Smurfs
While Storypod Audio Content can be enjoyed by children of all ages, children under 3 years old should only use Storypod under adult supervision.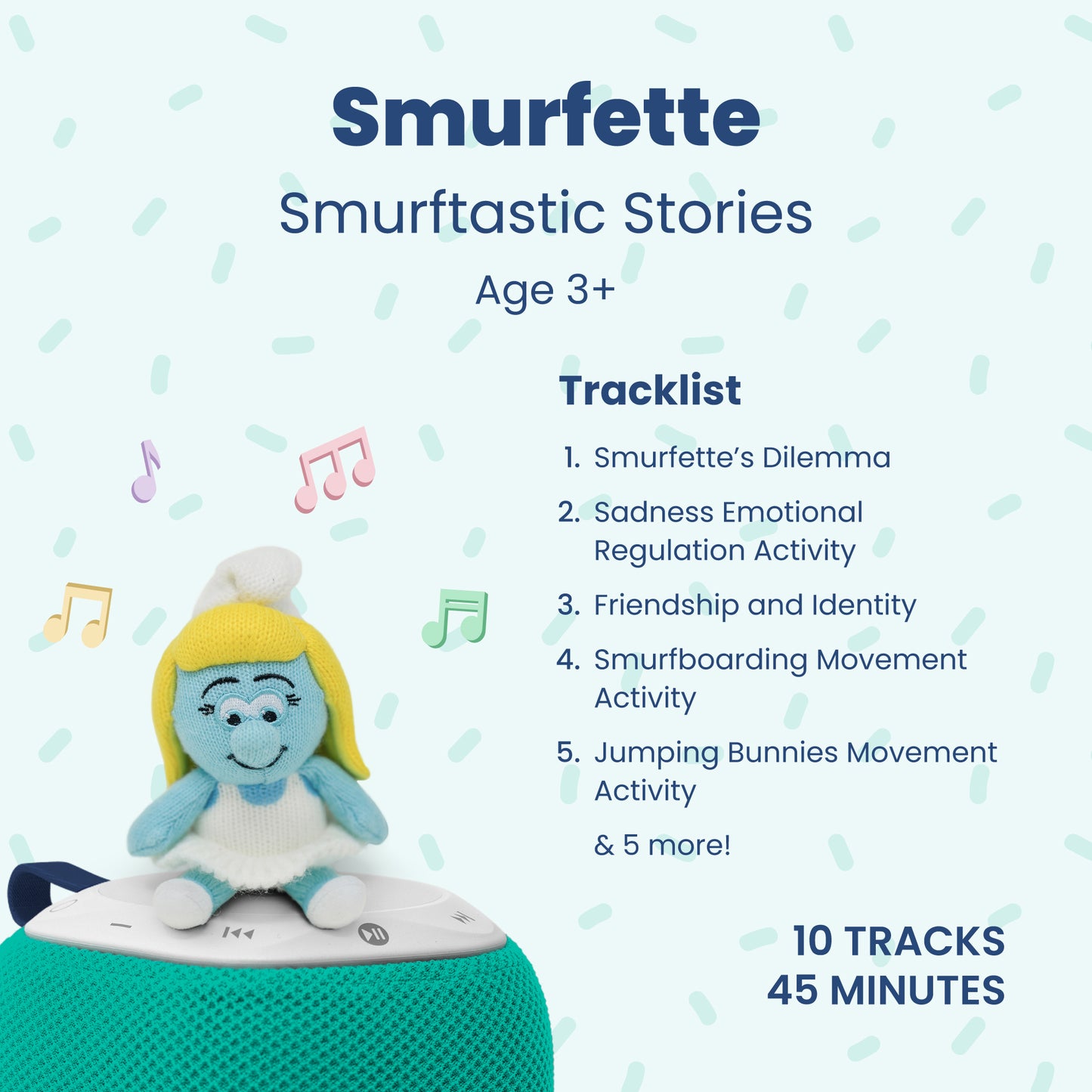 Less Screen Time, More Audio Play

Keep your mind at ease knowing your kiddos will be delightfully entertained for hours without screens.

Endless Fun, Even On the Go

With Storypod's 10 hour battery and offline play, your little ones can keep the fun going anywhere they go.

Interactive Play for Developing Minds

Stimulate your children's minds with interactive, hands-on entertainment that is both fun and educational.