Squish #2: Brave New Pond
Hilariously Scientific Grade-School Adventures
Recommended for ages 6+
Total Runtime: 27 minutes
Included in Subscription
Free Shipping on all orders $40+

In Stock – Ships next day
Don't have a Storypod?
You'll need a Storypod to listen to the interactive audio on Squish #2: Brave New Pond.
Get the Storypod
Storypod is proud to present our new line of colorful, stackable, magnetic Tokens! The perfect way to collect captivating stories, these Tokens bring your child just one tap away from unlocking audio experiences that will bring them joy while developing foundational listening comprehension and language development skills.
The microbiotic trio is back for another school year at The Pond! In the second installment of this biology-packed series, Squish the amoeba grapples with balancing his old friendships with new ones, accomplishing school-year resolutions, and succumbing to peer pressure. Common problems for all children, Squish is a relatable way to introduce social-emotional learning. Life isn't easy for a tiny microbe in a big pond, but conSCIENCE will prevail! Whimsical and fun, the silly adventures of Squish are a wonderful way to get your child hooked on science from the comfort of your home!
Narrated by: Mary Dilts, Jorieana Marie, Rob Shapiro, Maxwell Glick, Andrea Emmes, Kirby Heyborne, Marc Cashman, Mark Deakins, Fred Sanders, Rene Ruiz, Jim Meskimen and Tonya Cornelisse
© 2011 by Jennifer Holm and Matthew Holm
℗ Penguin Random House LLC
Storypod Tokens are tested and appropriate for children 18 months and older. However, adult supervision is advised for all children under 3 years of age as Storypod Tokens contain small parts that may cause choking if handled improperly.
While Storypod Audio Content can be enjoyed by children of all ages, children under 3 years old should only use Storypod under adult supervision.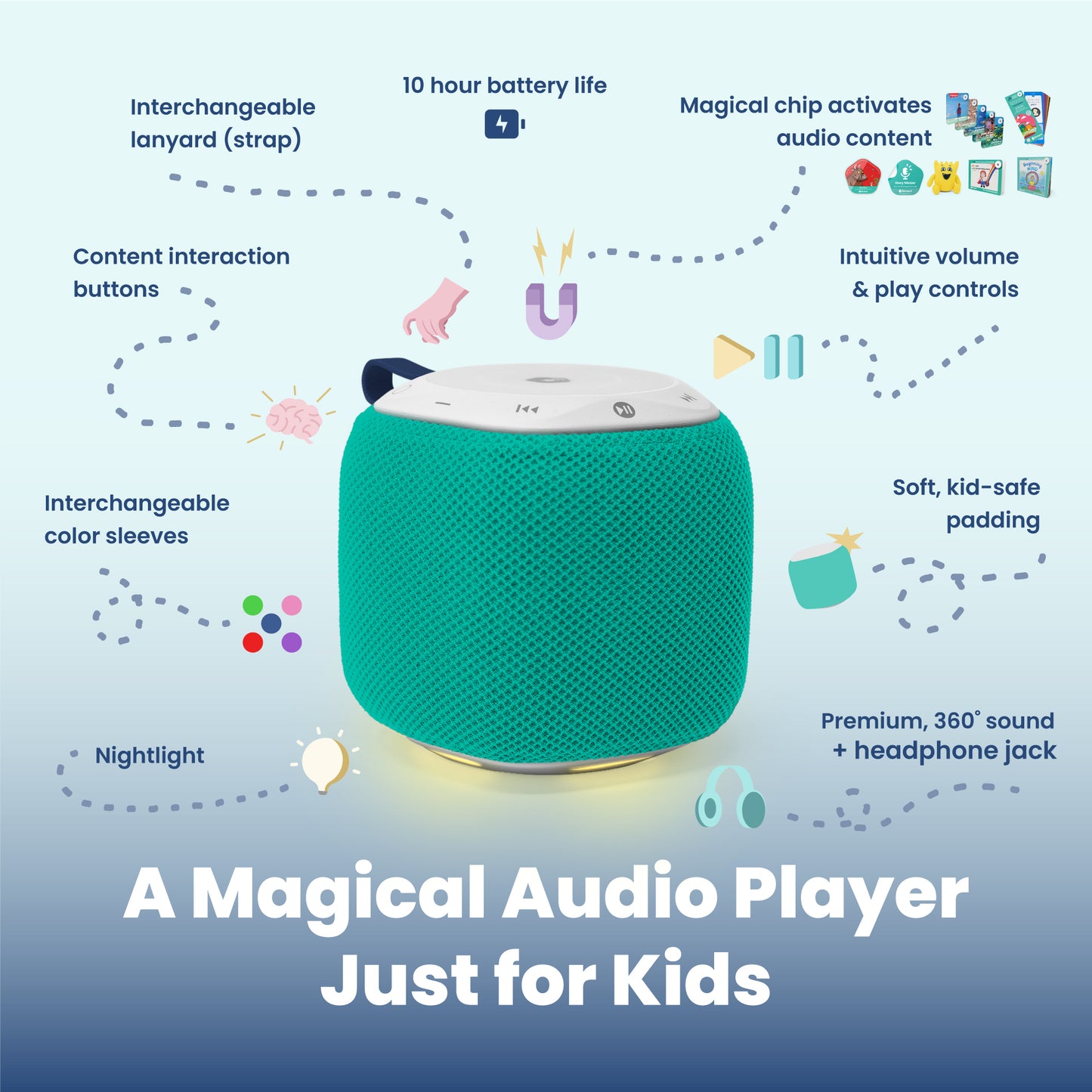 Less Screen Time, More Audio Play

Keep your mind at ease knowing your kiddos will be delightfully entertained for hours without screens.

Endless Fun, Even On the Go

With Storypod's 10 hour battery and offline play, your little ones can keep the fun going anywhere they go.

Interactive Play for Developing Minds

Stimulate your children's minds with interactive, hands-on entertainment that is both fun and educational.