Uma Unicorn
Songs To Move To
Recommended for Ages 0-3
Total Runtime: 33 minutes
Included in Learning Sets
Free Shipping on all orders $40+

In Stock –

Limited Holiday Inventory
Don't have a Storypod?
You'll need a Storypod to listen to the interactive audio on Uma Unicorn.
Get the Storypod
Get movin' and groovin' with Uma Unicorn! Uma features a variety of fun and interactive body movement songs intended to engage your little ones attention and help develop their fine motor skills. Wiggle your fingers and touch your toes — in English & Español! 🇺🇸🇪🇸
Tracklist:

Where is Thumbkin? (3:03)
I Love The Mountains (1:42)
Skip To My Lou (2:02)
Pat A Cake (1:44)
London Bridge Is Falling Down (1:39)
Ring Around The Rosie (1:58)
Itsy Bitsy Spider (2:06)
My Little Puppets (1:48)
Jim Along Josie (1:55)
Hokey Pokey (1:14)
Finger Family (1:12)
Once An Austrian Went Yodeling (2:49)
Head Shoulders Knees And Toes (2:04)
Did you Ever See A Lassie (1:16)
Heel And Toe Polka (2:04)
A Sailor Went To Sea (1:38)
Do You Know How To Plant Cabbage (1:15)
Storypod Goodbye Song (1:05)
Created by Grammy Winning Artists 🏆
Writing: Anita Katz
Music: Arturo Cabrera Brambilla
While Storypod Audio Content can be enjoyed by children of all ages, children under 3 years old should only use Storypod under adult supervision.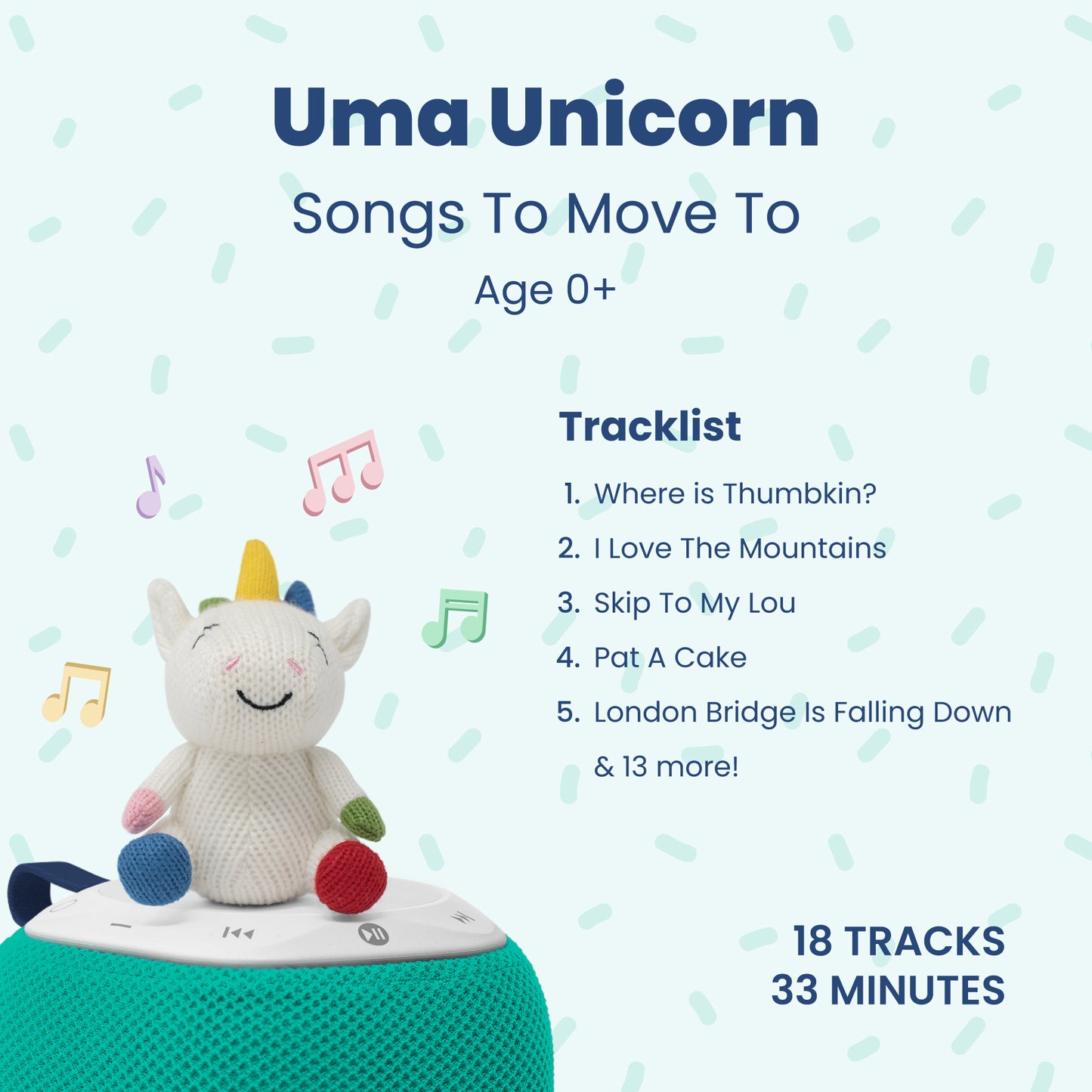 Less Screen Time, More Audio Play

Keep your mind at ease knowing your kiddos will be delightfully entertained for hours without screens.

Endless Fun, Even On the Go

With Storypod's 10 hour battery and offline play, your little ones can keep the fun going anywhere they go.

Interactive Play for Developing Minds

Stimulate your children's minds with interactive, hands-on entertainment that is both fun and educational.